Message from the Headteacher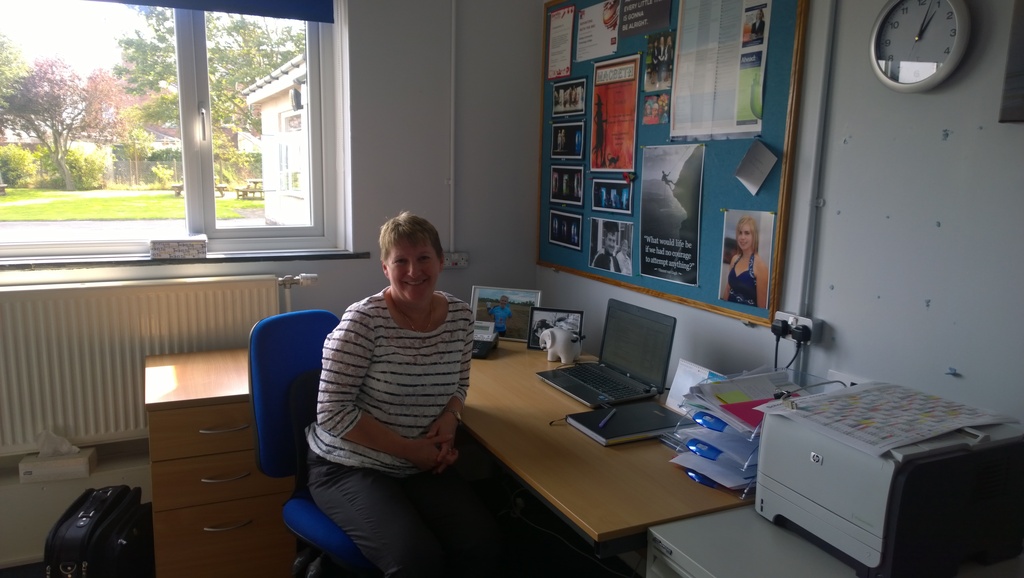 Welcome to Solway Community School
Solway Community School is at the heart of the community in Silloth. Established over 50 years ago, we have a reputation as school where students of all abilities excel. Our big strength is our small size – everyone knows everyone else; yet we are able to provide a wide range of courses to match learners' strengths and interests. We know everyone – and we help them develop into unique and self-confident individuals.
We remain a comprehensive school and welcome students of all abilities. Over the last three years we have been recognised for our ability to add value to students' achievement – we are now the leading school in Cumbria and the North West of England for adding value. So, where ever a student joins us, we will help them progress further with us than if they went to any other school in the North West.
One of our strengths is that we offer a personalised curriculum. We recognise that we do not produce widgets, but individuals. We tailor our provision to suit every student, as far as we can. We concentrate on making sure our students achieve substantial progress in their time with us in both academic and vocational subjects, which have parity of esteem, while at the same time make sure they mature into responsible, active members of society.
Expectations of our students are very high; in all areas of school life – uniform, behaviour, classwork, homework, social responsibility, courtesy and respect. They learn far more than subject curriculum content while they are with us. Every teacher shares this ethos.
Our business as a school is to achieve the qualifications necessary for our students to move on to the next stage in their lives, be that sixth form, further education or employment. But it is also to allow our students to become grown up, confident, articulate members of society who will become everything they were meant to be.
Lifelong learning is essential. We aim to challenge our students to become independent learners, with the skills they will need to help them through life. As a school we constantly challenge ourselves to learn and improve. We have high ambitions and aspirations for our students. We want them to be the best they can be. We intend to give them the skills to get there.
Solway Sixth Form Is Still An Option

Please email Mrs Schafer for more details at judith.schafer@solway.cumbria.sch.uk
Summer School
Smart Marks and Attendance
SSAT Educational Outcomes Awards
Solway Community Technology College receives a SSAT award.
Congratulations – you are a winner in this year's SSAT Educational Outcomes Awards
On behalf of SSAT, I am delighted to let you know that your school has won an SSAT Educational Outcomes Award for your exceptional progress.
The award is to recognise your achievement of being in the top 10% of schools nationally for value-added progress. We've identified your success using the Educational Outcomes 2014 database – a time-saving tool for analysis, benchmarking and collaboration that collates the latest DfE data and Ofsted gradings into one.
Solway Community Technology College one of the best in the country for student progress at GCSE
Solway Community Technology College has received national recognition for the value it adds to students' achievements at GCSE.
SSAT, the Schools, Students and Teachers Network, recently undertook its annual in-depth analysis of official Department for Education data on all state-funded schools in England and identified Solway Community Technology College's success.
The school has qualified for an SSAT Educational Outcomes Award by being in the top 10% of schools nationally for progress made by pupils between their key stage 2 results at primary school and their GCSE results at age 16.
The school has been invited to receive their award at a regional celebration ceremony hosted by SSAT at St John Bosco Arts College in Liverpool on 30 April.
Sue Williamson, Chief Executive of SSAT said:
'Solway Community Technology College should be congratulated for their exceptional achievement. They have proved themselves to be leading the field in improving GCSE outcomes for their students. There is so much good practice that this school could share, and I hope they will join us at the celebration evening for the chance to network and share strategies with award-winning schools.
'These results are testament to the commitment and hard work of the students, teachers and leadership team at Solway Community Technology College, and show what can be achieved when skilled teachers have high expectations and ambition for every young person. I am proud that this school is a member of the SSAT network.'
School League Tables
We were delighted with our position on this year's league tables! TOP
Your children from last year's Year 11 achieved far better grades in their GCSEs last summer than they were expected to,based on their KS2 results, or than they would have in any other secondary school in the county! How great is that?
The value added section takes the pupils' best 8 results then compares this with predictions from their Primary school results. The national average score would be 1000. That would be a neutral outcome; that is to say in such schools the pupils achieve what they are expected to achieve. Below 1000 then the school would not have added any value,in fact it would have had a negative impact. Above 1000 then the school has added value for the pupils. We were well above 1000 and well above all other Cumbrian schools. Support your local school if you want your child to achieve more than their potential.